jim dash?
So, a few months ago (on Winter Solstice) I had this "feeling", and mentioned that perhaps I may release my latest songs under a different name. And after/before that evening, it's been floating around in the back of my mind...
Well, earlier tonight I was casually thinking about the band name "Beady Eye"... And then, at one point, everything more-or-less "kicked-in", and I 'realized' how good of a band name it actually was :)
And then about an hour later, after some "aimless" walking about the floor (and pondering band names in general), I started thinking about my YouTube username: JimDashM. It occurred to me that "Jim Dashm" is a pretty good band name too...
Well, I looked into it online, and somehow suddenly found myself on a dictionary.com page for "Jim Dash". As I scanned the definition, I registered that it'd be a *really good* band name...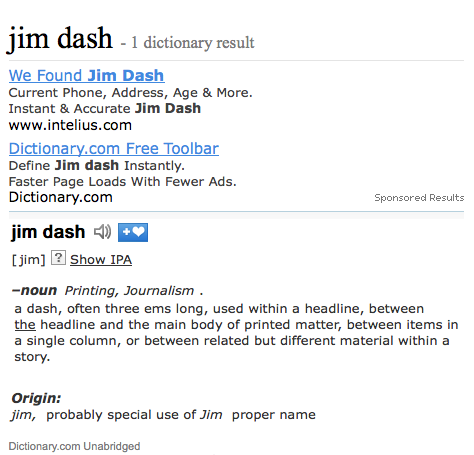 I then looked on myspace.com, and to my sheer amazment actually saw this:

And now, just a little bit later, there is:

Good times :) At least for now, I think this will be a good place to test out the new songs. Anyway, we'll see what happens....